Apartment gets more spotlights to be the answer of affordable housing dream. In fact, the best room design can brighten up the mood after a long tiring day.
An apartment patio is an outdoor space attached to an apartment unit, typically located on an upper floor or ground floor of a multi-unit building. Apartment patios can vary in size and shape, but they are typically smaller than traditional outdoor spaces like a backyard or a garden.
They are designed to provide apartment residents with an outdoor area where they can relax, entertain, and enjoy some fresh air without having to leave their apartment complex. Apartment patios can be furnished with outdoor seating, plants, and decor to create a comfortable and inviting space for residents.
With a little creativity, you can make your apartment patio as the outdoor space that brings pleasure. To decorate it, you might need an inspiration and theme to start with. Here are some apartment patio ideas to decorate your lovely patio.
The stargazer
Staring at the beautiful night sky might sound dreamy, but it does not sound like a bad choice as well. When the night sky is clear, twinkling stars and the night breeze can alleviate your exhaustion as well as your stress. For this theme, you can start by adding a rug, a comfortable mattress, or few bean bags. Install the long LED Christmas lamps to light up the space.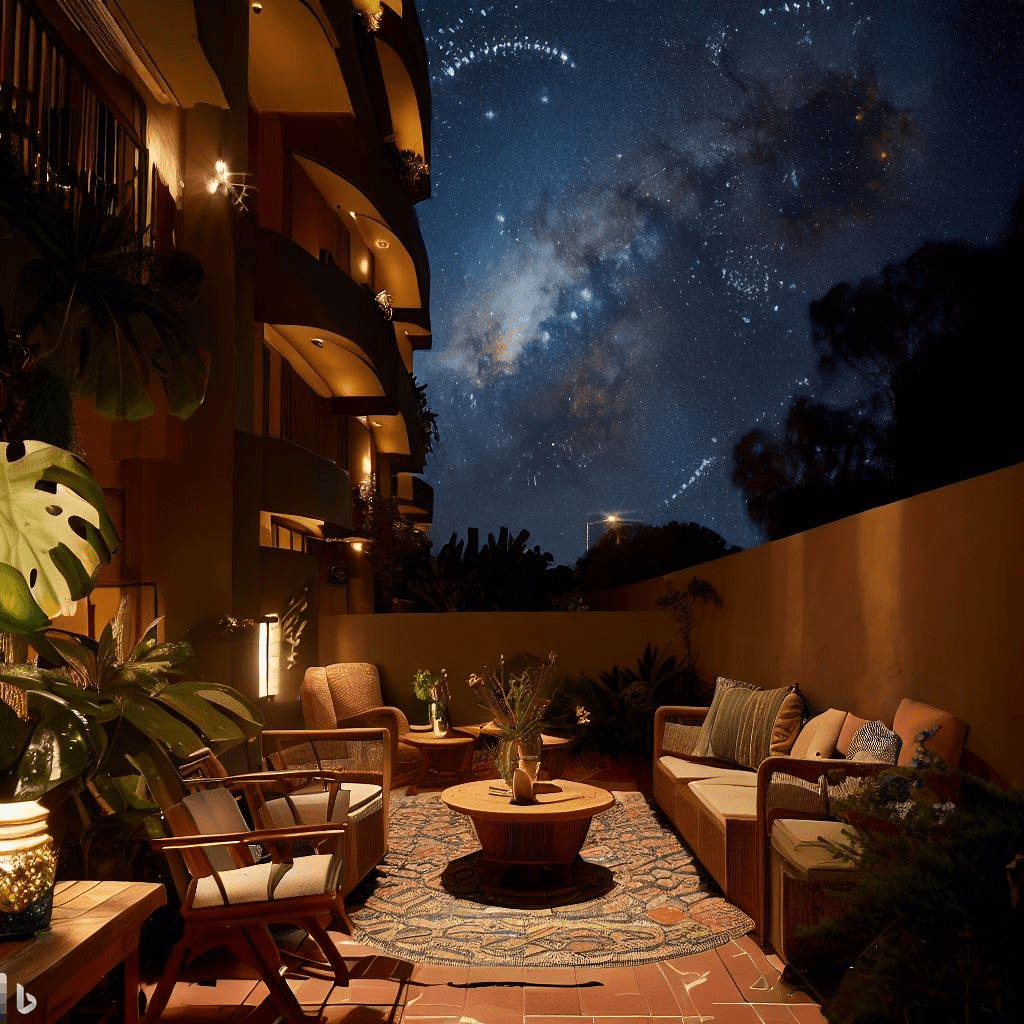 If you have an apartment patio and you want to create a stargazing space, here are a few ideas that you can consider:
Comfortable seating: Choose comfortable seating that allows you to lay back and look up at the stars. This could be a chaise lounge, a hammock, or a comfortable chair with a footrest.
Cozy lighting: Install some cozy lighting such as string lights or fairy lights to create a warm and inviting atmosphere.
Outdoor rug: Adding an outdoor rug can help to define the space and add some color and texture to the patio.
Outdoor telescope: If you're really into stargazing, consider investing in an outdoor telescope so that you can get a closer look at the stars.
Outdoor speakers: Set up some outdoor speakers so that you can enjoy some music or listen to a stargazing audio guide.
Stargazing apps: Download a stargazing app that can help you identify constellations and planets in the night sky.
Warm blankets: Even during the warmer months, the night air can get chilly. Make sure to have some warm blankets on hand so that you can stay cozy while you stargaze.
Remember to always prioritize safety and follow any building or fire codes when creating an outdoor space on your apartment patio.
Read More : 15 Best Types of Little Garden for Small Houses Or Apartment Ideas
Green-goer Apartment Patio Ideas
Having a green corner in apartment will never go wrong. Besides serving the tranquility, little gardening can also help you to reduce stress. This theme combines grass rug, some deck chairs (or any kinds of low chairs), a matching table, and potted plants.
You can put the potted plants on wall shelves or hang those from the ceiling. For the furniture, choose ones with earth colors and wooden material to bring out natural ambiance.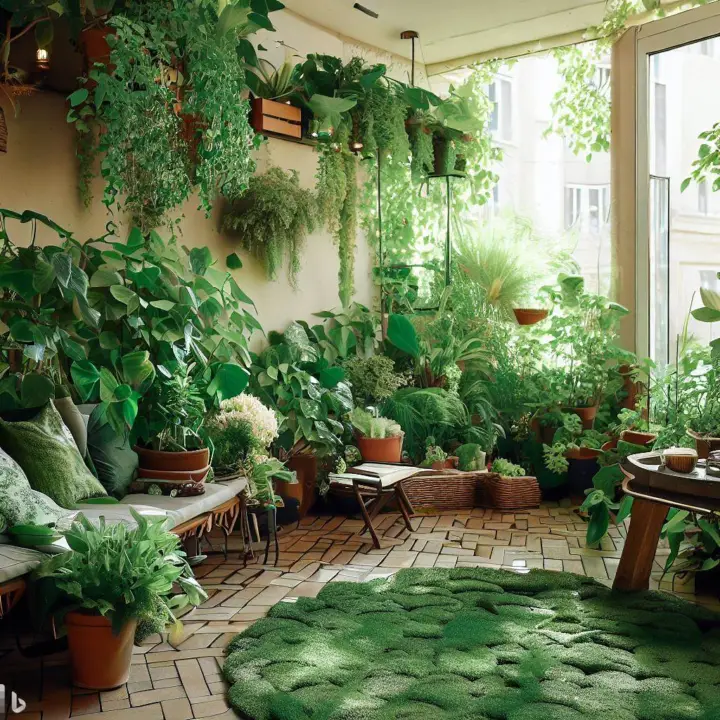 If you are looking for some green apartment patio ideas, here are a few suggestions:
Vertical gardens: You can create a vertical garden on your apartment patio using wall-mounted planters or hanging baskets. This is a great way to maximize your space and add a lot of greenery to your patio.
Container gardening: Use pots and containers to grow plants of your choice. You can choose plants that thrive in your local climate and are well suited for the amount of sunlight your patio receives.
Herb garden: You can grow herbs in small pots on your apartment patio, which not only adds greenery but also provides fresh herbs for cooking.
Trellises: You can install a trellis on your apartment patio and grow vines or climbing plants such as grapes, tomatoes, or cucumbers.
Privacy screen: Use plants to create a natural privacy screen for your patio. You can grow tall plants or install a trellis and grow vines to create a living wall.
Plant stand: If you have limited space on your patio, use a plant stand to add multiple levels of greenery.
Succulent garden: Succulents are low-maintenance plants that are perfect for apartment patios. You can create a small succulent garden on your patio using different varieties of succulents.
Remember to choose plants that are well-suited for your patio's conditions and your ability to care for them. Also, consider using environmentally friendly and sustainable materials when creating your green apartment patio.
Read More : Small Patio Ideas – Best To do + Tips and Tricks to Decorate Small Patio
Patio bar
The last option of apartment patio ideas requires a larger space. Well, it will be worthwhile since you can have the outdoor bar. Using some stools, low storage cabinets as table, bold color rugs, bean bags, and dim lighting can help your bar comes true.
Make sure you fill those cabinets full of snacks. Next, you just need to bring out those canned beers and friends to have the party.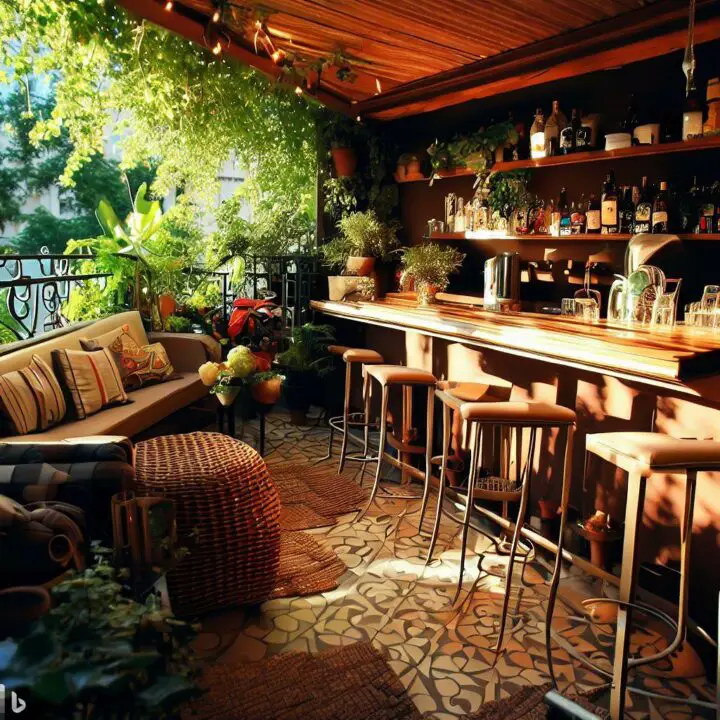 If you want to create a patio bar on your apartment patio, here are a few ideas that you can consider:
Bar Cart: A bar cart is a great option for a small patio. It can be easily moved around, and you can store your drinks and barware on it. You can decorate it with glasses, cocktail shakers, and a small plant to make it look inviting.
DIY Bar: If you have some DIY skills, you can build your own bar using wood or metal. You can customize the size and shape to fit your patio, and add shelving or drawers to store your bar supplies.
Wall-mounted bar: You can install a wall-mounted bar that folds down when not in use. This is a great space-saving option that allows you to have a bar without taking up too much space.
Bar Table: A bar table with high stools is a great option if you want to create a more formal bar area. You can place it against the wall or in a corner of your patio and decorate it with your favorite bar accessories.
Mini-fridge: If you have space and access to electricity on your patio, you can add a mini-fridge to keep your drinks cold.
Lighting: You can add some cozy lighting to your patio bar area with string lights or lanterns. This will create a warm and inviting atmosphere.
Barware and Glassware: Don't forget to stock up on all the necessary barware and glassware such as shakers, stirrers, cocktail glasses, and wine glasses to create a fully functional bar on your apartment patio.
Remember to check with your apartment complex's rules and regulations before installing any permanent structures or using electricity on your patio.
Read More : √13 Best Fits Flagstone Patio Pictures for Tiny Little House and Medium Landscape
So, which theme suits you the best? Decorating patio can be fun with those apartment patio ideas. The themes can help you to make the most of your small space. So, what are you waiting for?
patio design