Kitchen Wall Decor & Kitchen Floor Tile Ideas – As we know, kitchen is one of the most important spaces of the house. No wonder many people are willing to spend a lot of money and effort to design the best kitchen.
In fact, cooking delicious and healthy foods requires passion and intention.
This can be encouraged by the presence of a neat and functional kitchen arrangement.
One of the basic things you can do to create a great kitchen is to apply kitchen wall decor ideas.
The wall that's left blank without any ornaments will look boring, isn't it?
Well, here are some wall decor ideas as the inspirations for your kitchen.
5 popular Items as the Kitchen Wall Decor Ideas
Functional hanging basket Kitchen Decor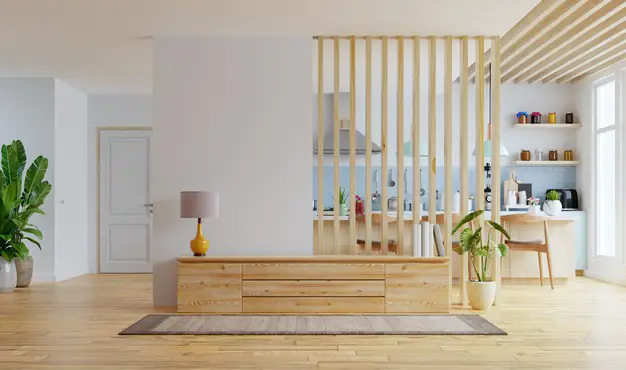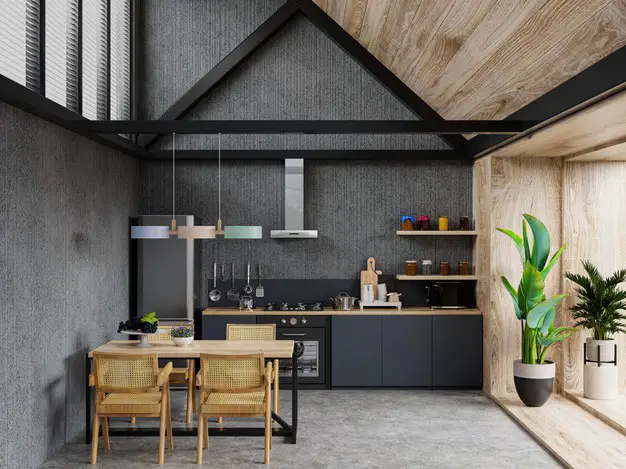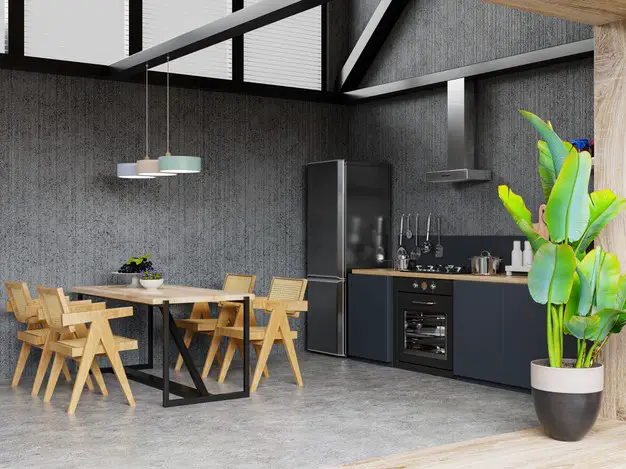 This wall decoration idea not only makes the kitchen look prettier, but also functional.
You can use this basket as a storage container for the spices or fruit.
If you like a modern minimalist style,  just choose a basket made of wire or wood.
However,
if you want to highlight a natural and rustic feel, a rattan basket is the right choice.
Read more: White Kitchen Cabinets for Stunning Decoration and Functionality
Industrial wall art For Kitchen Decor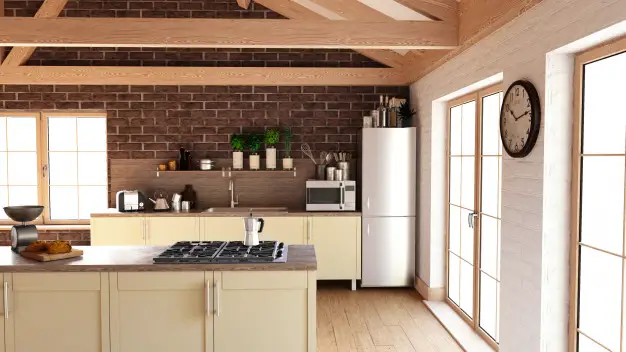 Not all wall decorations are expensive. With a little bit of creativity, you can do DIY projects.
Use wooden planks as a medium for hanging various kitchen utensils.
Then, add the metal hooks to those neatly polished and arranged wooden planks.
This idea will give a strong industrial impression and enhance your kitchen decor.
Besides being an efficient storage medium, this item also provides an impressive visual effect.
Read more: Kitchen Set and Decorating Ideas to Make the Room Look Spacious
Greeneries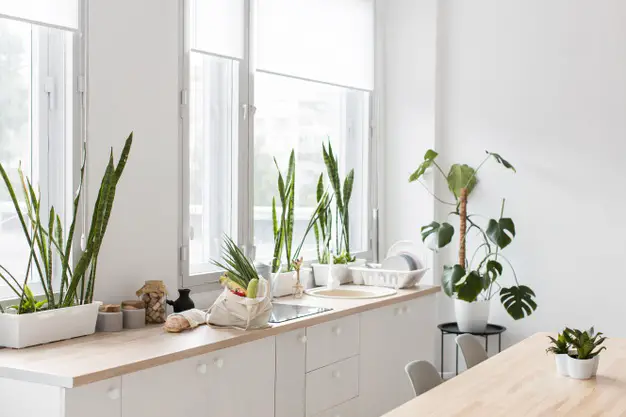 Do you want your kitchen to be far from stuffy look? Well, it is easy actually.
Just put the plants in pots to give a natural impression.
Place these pots on the wall shelf, and arrange them with a few jars of herbs.
Apart from being part of the decoration, putting plants in the kitchen can give a fresh and cool impression.
After all, this kind of kitchen wall decor ideas will improve your feeling and mood for cooking.
Read more: Kitchen Set and Decorating Ideas to Make the Room Look Spacious
Minimalist wooden shelves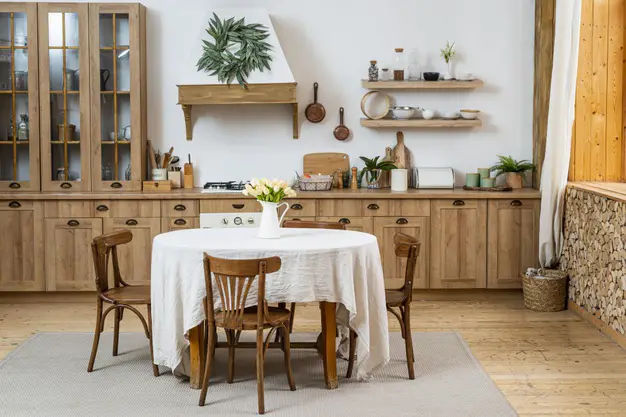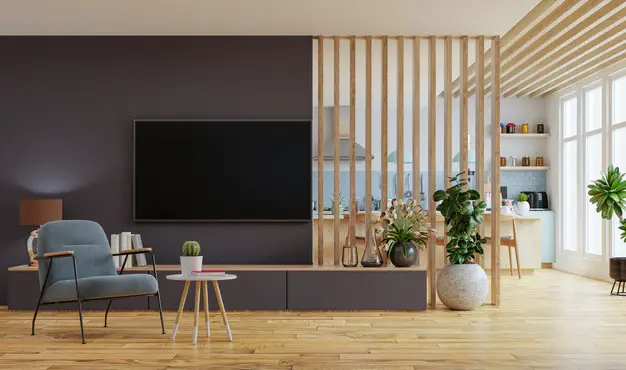 For a minimalist and simple decoration without a kitchen set,
placing wooden shelves is the right choice to increase the comfort and aesthetics.
The minimalist wooden shelves are functional since they can replace the function of kitchen set.
You can install two or more shelves according to the size of your kitchen.
Besides aesthetics, this idea is also multifunctional.
read more: Top Choices Small Kitchen Ideas to Create Comfortable Cooking Area
Painting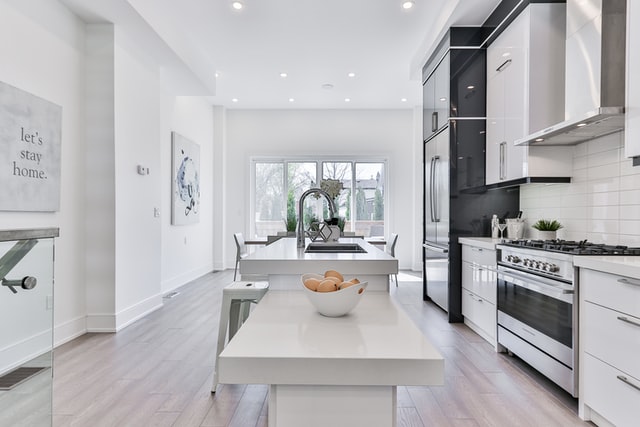 For the art lovers, putting a painting on a kitchen wall is a great way to embellish your decor.
Choose the one with bright colors to bring a cheerful tone.
In addition,
the number and size of the paintings also need to be considered according to the space available.
Those are some kitchen wall decor ideas that you can apply at your house.
Choose the one that really makes you comfortable and can increase your mood for cooking.
If your kitchen is designed with a dining room,
do not forget to pay attention to the decoration details,
so the choice of wall decor will match to the concept of dining room.
read more: White Kitchen Main Benefits For Beautifully Home Design
---
Kitchen – it's simply defined as the food center in a house. Whatever meal it is, this room creates wonderful tastes and fulfills our hunger.
If you are planning to give a boost in your house's looks, it's best not to forget about your kitchen as well. Floor tiling is one aspect you should consider to make the best of your kitchen's looks.
What kind of type, color, or material that is great for your kitchen? Find out some kitchen floor tile ideas in this article below.
Kitchen Floor Tile Ideas to Beautify Your '

House of Energy

'
Talking about flooring ideas, we cannot go far from dealing with colors of your flooring tile. Not only colors, there are many aspects to help your kitchen floor looks greatly beautiful.
Wondering what aspect they are?
Colors
Colors are considered as one of the game changer aspects that anyone with home-improvement plans. This perception is applied in kitchen as well.
Now, what we should consider about floor colors?
The best floor colors are the ones close to earth colors. So, colors like brown, mocha, brownish green, cream, are great enough to be chosen as the tile colors.
However,
the consideration doesn't stop there – its color compatibility with the wall and cabinet colors needs to be considered as well.
It's a general assumption that floors will be better if darker than the walls (if the walls are light enough in colors), and vice versa.
However,
what should you do if the cabinet color is dark enough to compete with the floor tiles?
Then, it's best to find a color in the 'median line', meaning that you should find any color that bridge the lighter color to match with the darker color.
read more: Ceramic Tile – Flooring & Wall Of Modern Minimalist House
Materials
Another aspect you need to think about when talking about kitchen floor tile ideas is the materials. As for kitchen floors, porcelain and ceramic are great to be chosen as your floor materials.
This is because these materials don't retain stains, and is harder as it has denser structure.
Ceramic tiles are less-dense than the aforementioned material, yet it is widely chosen in kitchen flooring as well. There are various reasons why people often choose these materials:
First, it looks elegant (as it has this glossiness to some extent).

Cleaner looks.

Easy to clean – hence it's a good idea if you're a reckless cook.

With high density, you can rely on it for a durable material as the flooring option.
Some other floorings material will include:
If you're so into eco-friendly materials, then this is the right one. Cork is a highly environment-friendly material. Other plus points about this material are because it is slip-resistant and is smooth to walk on.
Considerable durability and moisture-resistant, this type of hardwood makes another entry for kitchen flooring materials. Moreover, its natural color goes well with various wall and cabinet colors.
If you're looking for a budget-friendly material, you can always rely on vinyl flooring. It comes with various colors to pick from, and has great range of styles. In addition, vinyl flooring offers easy-to-maintain feature and excellent water-resistance.
That sums up some information regarding kitchen floor tile ideas. After reading information stated above, have you made your mind about what materials and colors to pick for your kitchen floor?