How to Make Gold Paint – Are you looking for some specific color paint that is able to boost your furniture's appeal?
Or, do you need a coloring that will give a gold touch for cake decorating?
Regardless of the reason,
the color of gold is one of the most favored colors in the industry.
It's believed that gold is able to depict wealth, enchantment, and joy.
However,
the price of gold color paint is not relatively affordable.
Did you know that you could make a gold color on your own?
In this article, you will learn how to make gold paint and other hues of gold.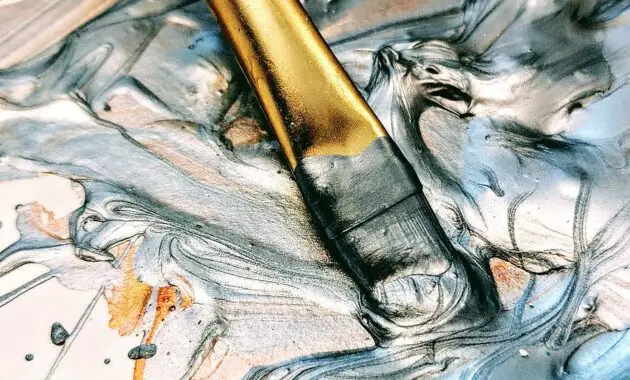 What Colors will Make Gold?
As mentioned earlier,
gold is a hue of enchantment and wealth, making it a popular color for furniture, paintings, and even food products.
Read also: How Long Does Spray Paint Take to Dry : 5 Major Factors Affected
However,
it is also the type of color that is relatively hard to mix.
It's even harder to get the right shade because gold is made of two undertones: warm and cool.
Gold lies between the color of yellow and orange.
If the gold color looks brighter, then it automatically becomes yellower.
On contrary,
if the coloring appears duller, then it can look a little more orange.
Even though brown is one of its primary colors, gold doesn't sit on this color gradient side.
Read more: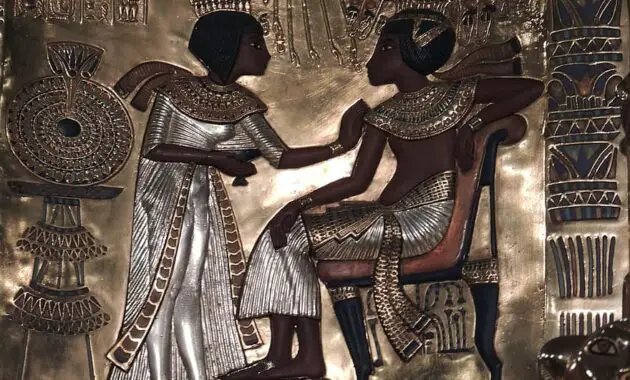 Acrylic or Oil Paint
So, how to make gold paint?
To get you a gold paint, you will need to conduct an experiment with a number of combinations to get the right shade that you want.
The process is relatively easy to follow.
Let's start with acrylic or oil paint, and here are the things you need to prepare:
Paintbrush and palette

Yellow acrylic or oil paint, brown, white, and orange acrylic or oil paint

Powdered bronze or gold glitter
Start Mixing Brown and Yellow
Since you use oil or acrylic paint to make gold color paint,
you can start by combining yellow and brown in equal measures using a brush.
You can start with mixing 1/8 teaspoons of each color and placing the brush in the brown color, dabbing it, and combining it with yellow.
That way, you will see how the color changes as the amounts increasing.
Add the White Paint
In order to brighten up the shade,
combine with a small amount of white oil or acrylic paint.
You can add more if you want a brighter hue.
Adding the orange color will get you a duller shade, which could be needed for low sheen.
Read also:
Make the Shade Vibrant
If you want a more vibrant hue of gold paint,
mix the yellow and orange oil or acrylic paints with a ratio of 2:1.
Also, add a small amount of white color as desired.
Make it Shiny
The shiny hue is what defines the gold color.
Add a small amount of powdered bronze or gold glitter to give you that reflective shade.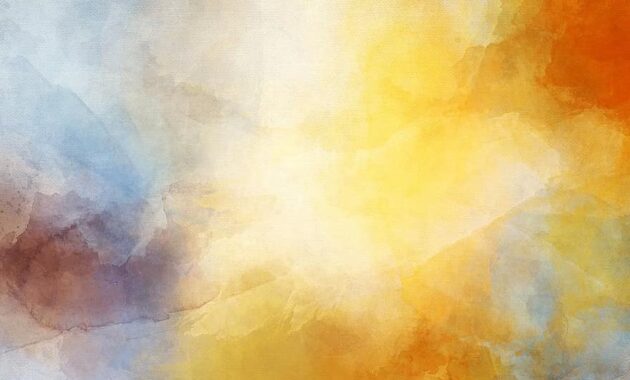 Watercolor Paint
However,
how to make gold paint if using watercolor paint?
Here are the primary colors you need to prepare to get the right gold watercolor.
Yellow ochre

Carmine

Raw sienna
Make Gold Shade in Watercolor
There are only few manufacturers that produce gold watercolor paint.
But you can make it yourself by using yellow ochre, yellow, carmine, and sienna.
For the highlight sections,
use the yellow ochre.
While for the shadows sections, blend the yellow ochre, carmine, and raw sienna with a ratio of 2:1:1.
Adjust and Make it Shiny
You can adjust the ratio of each color to get the perfect tone you desire.
Also,
adding gold sparkles into the mixture will add a shine effect that will not flake away.
Apart from using the shades above,
you can use a combination of primary colors, which include yellow, red, black, and blue, to make a golden color.
Here's how to make gold paint using the primary colors:
First and foremost, you will need to make a green color by combining red and blue in equal measures.
Then, add the yellow paint in an equal amount as well.
Stir thoroughly until you get a brownish-gold color.
In other words, you get a dark gold shade with a warm tone.
If you want to make it more vibrant, add a small amount of yellow paint until you get the bright hue you desired.
If you find the result is too yellow, consider adding more blue and red.
This way,
you will be able to adjust the proportions of the yellow with the purple shades made from the combination of red and blue.
In a cup, add the red and black paint in an equal amount.
Mix until you get a warm hue of maroon color.
Then, add the yellow color in equal measure into the mixture.
Stir them well until you get a real shade of gold.
If you want a warmer shade of gold,
simply add a small amount of magenta and orange or brown.
Add several small drops of blue if you wish to get a cooler shade of gold.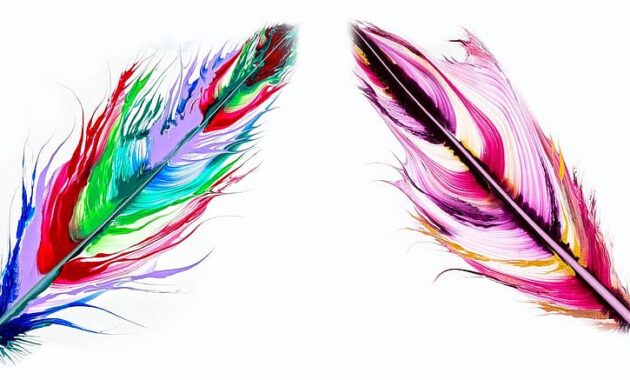 How to Get Richest Gold Colors
Gold comes in a wide array of shades, from light to darkest shade.
You may already have a bucket of gold paint, but you are going to use it as an accent color.
Therefore,
you will need it to make it much darker. Here is how to make gold paint richer and darker.
Get the Initial Formula of Your Color
If you purchase a custom-mixed gold paint,
you can find the details of the original formula on the sales receipt, can, or color fan decks.
The formula will show you the proportions of each color that have created your current golden paint.
It should be understood that a light base will not be able to take enough color to produce the darkest shade of gold.
However,
you can still darken it to increase its saturation.
If you purchase a ready-made gold paint,
you will find a label that shows if the paint can take more color or not.
Find Other Sample
Some paint cans are not equipped with the paint formula information.
If you don't find one,
consider finding one dark gold paint sample you desire and one sample of your current golden paint.
Then,
compare each color characteristics, such as the intensity level and light reflectance value.
Make sure the desired shade and the gold paint you already have are equivalent.
Also, ensure that your existing paint is able to take the amount of additional color in order to produce the target gold shade that you want.
Then,
paint a strip of the gold paint you have purchased and place the desired color sample on a paint testing surface.
Add Gold and Black Tint Paints
Purchase a small can of gold and black paint. Make sure to check the suitability of the product with the specifications of your existing products, such as acrylic or maybe oil-based paints. Compare the formula of your desired shade of gold with the existing one.
Add varying quantities of around ¼ teaspoons of gold and black tone as desired to the existing gold paint can. Also, keep in mind to count the number of times whenever you add each color. Combine thoroughly right after adding each pigment.
Adjust the Proportions
Next to the test strip you have made, paint a small strip of the gold paint mixture.
Repeat this step until you get the right shade of gold you desire.
If the gold starts stabilizing with no change at all,
it means the maximum level of color for that foundation has been reached.
Do not add extra color as it will affect the visibility and adhesion qualities of the gold paint.
Stir the paints thoroughly to ensure a consistent mixture.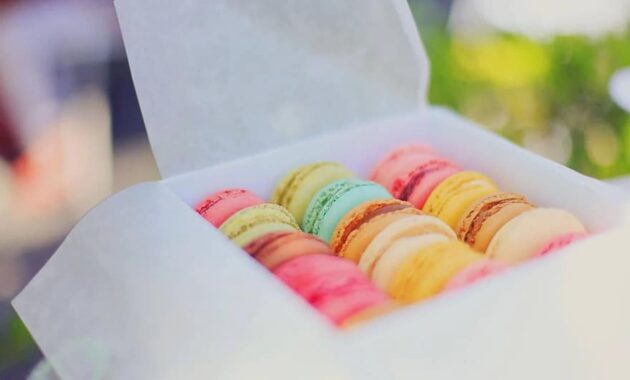 How to Make Edible Gold Coloring Food?
Gold is not only popular for painting or crafting purposes.
Many food products,
such as cake, are now using gold coloring as a coating.
To make gold icing, you need to prepare gel or liquid coloring food, one tablespoon of vodka or lemon extract, a half tablespoon of gold luster dust, and a food brush.
Here is the step-by-step on how to make gold paint for cakes icing: 
In a stain-resistant bowl, add enough vodka or lemon extract and gold luster dust. Stir it well until you get a relatively concentrated gold color.

Dab the food brush to the bowl in order to get the refined gold color. Use the same brush and press it on the bowl sides to remove the excess lemon extract or vodka. Keep in mind to always stir the mixture, so the color won't separate.
In comparison to other colors, gold is an exceptional color.
When you want to know how to make gold paint,
you will eventually need to conduct several experiments by adding at least one of primary colors.
In conclusion, yellow and brown are two basic colors that will give you a neutral gold tone.